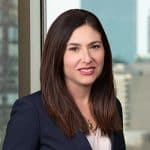 Anderson & Kreiger LLP announces that Michelle Kalowski, former Chief Counsel of Massachusetts Bay Transportation Authority (MBTA) and former Acting Chief Legal Counsel at the Massachusetts Port Authority (Massport), has joined the firm as Counsel.  Michelle brings nearly two decades of experience in meeting the needs of governmental clients in regulatory and administrative matters and complex litigation.
"Michelle's deep experience in the public sector and transportation industry will enhance our ability to serve our clients in those areas. We know she will make significant contributions to the firm and its clients and we're glad that she chose to join us," said Colin Van Dyke, Managing Partner at Anderson & Kreiger.
Prior to her time at the MBTA and Massport, Michelle was an Assistant District Attorney in the Suffolk County District Attorney's Office where she prosecuted sexual assault, domestic violence, and child abuse cases in Boston Municipal and Suffolk Superior Courts.
______________________________________________
Anderson & Kreiger's attorneys focus their work in the areas of litigation, public law, environmental, real estate, construction, insurance, internal investigation, and airports. Our style is open, collegial, practical, and efficient. From high-stakes litigation and complex transactions to public interest issues, we believe in our clients and our work.